ShawnsMotoGT.ca is Shawn's motorbike garage and training out of Bonnyville AB providing:    

  * Motorbike Rider Training
  * Repair and Servicing of Motorbikes, ATVs, UTVs, and some Small Engines  
WHO IS SHAWN??? Shawn is just a motorcycle enthusiast like you. His engagement with motorbikes begins with his big-hair-days in 1980 riding dirt-bikes. In the mid 2000's he bought his first street-bike after completing an Alberta Safety Council Motorcycle Gearing-Up course. A few years later he became a member of the EMRA (Edmonton Motorcycle Racing Association) partaking in Street-Bike Track-Days for a couple years, during which he also completed a street-bike BGRP Schools (Brad Gavey Performance Riding) Regular School at Race City, Calgary. Recently, he completed the Olds College Pre-Employment Motorcycle Mechanic program with honors and was the 2018-2019 Award Recipient by Olds College Faculty Association for School of Trades, Technology, and Continuing Education.
---
LOCATION: 
Shawns
Moto
GT.ca
is located just outside the town limits of
Bonnyville AB
.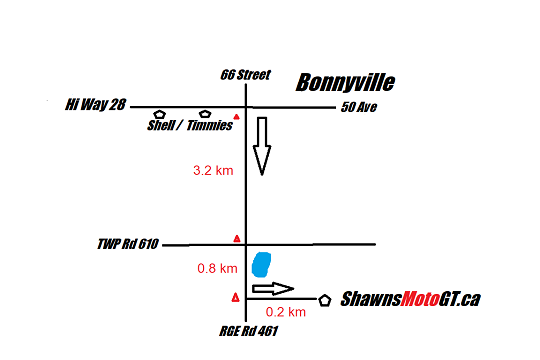 ---
HOURS OF OPERATION:
Because Shawn is likely riding with new motorbike learners, or is wrenching,
please text or email
your training or servicing enquiry, and he will get back to you within 24hrs between 8AM to 6PM Monday thru Saturday.
 * Training by Appointment 7-days-a-week, May thru October
 * Garage by Appointment Tues-Fri, Opening Summer 2021


---
CONTACT: 
 * Text (780)812-5452
 * Email shawn@shawnsmotogt.ca


---
CONNECT:
FACEBOOK:
https://www.facebook.com/ShawnsMotoGT.ca
INSTAGRAM: https://www.instagram.com/ShawnsMotoGT.ca